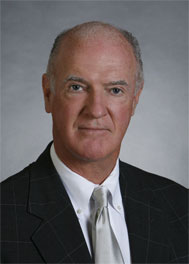 Bart Beier returned to Pittsburgh to open a private law practice after completing his education at Harvard University. He then co-founded the firm of Beier, Beier & Beier with his wife Mary.
Bart has extensive litigation experience in a wide range of personal injury cases including slip and falls, auto accidents, and defective products. He provides clients with special insight into insurance practices, having worked for two major insurers before practicing law.
Bart also has developed considerable real estate expertise with 35 years of experience. He has personally done over 2,000 real estate closings and has been a real estate title agent for over 20 years. Bart works with both residential and commercial real estate clients throughout Pennsylvania.
In addition, Bart is extremely active in his firm's specialized equine practice that has represented horse owners and jockeys in both Pennsylvania and other states.
Areas of Practice
Personal Injury
Animal & Dog Bites
Automobile Accidents
Medical Malpractice
Products Liability
Slip and Fall
Truck Accidents
Equine Law
Real Estate
Litigation
Cooperative Housing
Education
J.D., Duquesne University School of Law, 1972
Magna Cum Laude; Awarded the Robert and James H. Brennan Scholarship for the 2nd highest scholastic average at the end of both his first and second years of law school; Twice awarded the American Jurisprudence Award, Awarded the Corpus Juris Secundum Award, Member of the Law Review
B.S. in Finance, Lehigh University, 1969
Master of Law, Harvard University School of Law, 1974
Jurisdictions Admitted to Practice
Commonwealth of Pennsylvania, 1972 Western District of Pennsylvania, 1972 Middle District of Pennsylvania, 1972 3rd Circuit Court of Appeals, 1972
Professional & Bar Association Memberships
Pennsylvania Bar Association Allegheny County Bar Association
Contact Information
Download V Card
Tel 412 281 8539
445 Fort Pitt Boulevard
Pittsburgh, Pennsylvania 15219