The 5 Safest Motorcycle Helmets Of 2014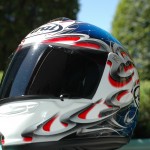 When riding, it is important to have the proper gear. From boots to sturdy pants, gloves and jacket, you have to make sure you have all your bases covered. One of the most important pieces of equipment is the helmet you wear. You should choose a helmet that is made of durable materials, covers the right areas of your head and face and will cushion your head in case of an accident. The following list will help you choose the right helmet to meet your needs and keep you safe whether you are riding across town or across the country.
Shoei Solid RF-1100 Full Face Motorcycle Helmet
Shoei is one of the premier brands in the motorcycle helmet industry. Shoei is well-known by motorcycle enthusiasts and those who participate in other sports. Shoei helmets are consistently at the top of the ratings for safety and durability. The company is continually developing new technology that helps keep riders safe. The face shield also keeps debris and dust out of your eyes, so your vision stays clear. The RF-1100 full face helmet is a great look for any rider, and protects the head, face and chin. The RF-1100 comes in several sizes to fit nearly every rider. This helmet comes in a couple of colors so you can find a great match. The Shoei RF-1100 will cost between $400 and $500, but your safety and comfort is well worth every penny.
O'Neal Fastrack II Motorcycle Helmet with Bluetooth Technology
Most motorcycle riders love to enjoy their favorite tunes when they ride. In days gone by, an iPod earbud shoved under your helmet was the most cost-effective option. Or you could always spring for an expensive on-board sound system that blasted your music to you and everyone else in the neighborhood, making you less than welcome during your adventures. O'Neal has created a helmet that gives you music while keeping you safe and quiet. The Fastrack II helmet has Bluetooth capability, so you can use your iPod, mp3 player or smartphone to channel music into the helmet. This helmet also gets great ratings on safety and durability, so you know that you are protected when you are enjoying the open road. Best of all, you can grab the Fastrack II helmet for around $200, so it's very affordable for all.
HJC Helmets IS-33 Motorcycle Helmet
HJC is one of the premier manufacturers of helmets for motorcycle owners. HJC has a full line of styles, so there is something to meet the needs of every rider, regardless of size or riding style. The IS-33 receives the highest marks in comfort and durability. The safety ratings for this helmet are nearly 5 stars in every category. The IS-33 also offers riders an options of colors beyond the basic black, so you can find a helmet that matches your bike and your personality. The IS-33 is also very affordable. You can pick this helmet up for less than $150.
Arai RX-Q Helmet
Arai is another name in motorcycle helmets; the brand is known for the great quality they provide to riders. Arai's RX-Q helmet offers riders a full-face helmet with face shield. The helmet comes in a wide variety of sizes and colors to meet the needs of every rider. The RX-Q helmet gets great ratings in safety and durability, and is constructed of the highest quality components for a great fit as well as comfort. The RX-Q helmet will cost about $600, so it's not cheap. However, a safe ride doesn't come cheap, so this helmet is well worth the expense.
Scorpion EXO-R410 Helmet
The Scorpion EXO-R410 helmet is another great choice for every rider, whether you are all about the short trips, or you prefer long weekends on the open road. The EXO-R410 helmet comes in several great colors that will match nearly every bike. It also is offered in a wide variety of sizes to meet the needs of every rider from smallest to largest. The Scorpion EXO-R410 helmet gets stellar ratings in safety and durability, which make it a must-have on this list. The Scorpion EXO-R410 comes with a price tag of less than $200, so it's great for those that have a smaller budget for gear.
No matter what you are doing, your safety and the safety of those around you is important. While some helmets come at a slightly elevated cost, they are worth the investment. Having the proper helmet on your head when you ride will ensure that you are doing the very best to ensure your own safety. In addition, if you carry a passenger with you at all, you should ensure that they have appropriate riding gear, no matter how short or long the ride is. It's a great idea to keep an extra helmet on hand just in case.