Employee Spotlight: James Craig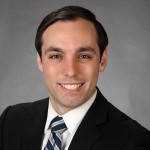 Beier Law welcomes a new member to our legal team: Associate Attorney James Craig. James was initially hired at Beier as a law clerk and joined our legal team as an associate attorney this last Fall. Our team is comprised of exceptional individuals and James is no exception. Given his recent accomplishments, I'd like to take a moment introduce you to James and tell you about his journey so far.
James is a Washington County native who grew up on a farm. If this rings like the beginning of a bootstrapper tale, it may well be.
Growing up, James says he always felt the desire to go out and do more. He also noted a power dynamic between the rights of the powerful stepping on the rights of the powerless. Instead of sputtering into the usual trap of youth apathy, James found his own personal drive: become a lawyer.
"I started to realize that people can become empowered through a knowledge of the law," he said. A desire to effect positive change through law began.
This desire sparked in middle school, an age when many are uncertain about their future. After graduating from McGuffey High School in 2007, James went on to earn a Bachelor's in History, Political Science, and Legal Studies at the University of Pittsburgh. After graduating Cum Laude in 2011, he entered the University of Pittsburgh School of Law, earning accolades such as the CALI Award for Trial Advocacy and being published in Pitt's online law student publication, JURIST.
James's early passion for law emerged here at Beier Law as well. While still at law school, James started at our firm as a clerk in 2012. This placed his feet firmly in two oft-opposing words: real life and academia. This felt jarring at first, said James, but it soon turned into an irreplaceable learning opportunity. He thrived.
"Law school was the theoretical but working at Beier Law, I got to see the practical side of things," said James. He soon found himself choosing courses at school that reflected his work at Beier. In that same vein, his classroom performance boosted from his real-life experience.
Clerkships don't always evolve into full-time jobs. After graduating law school and demonstrating his hard work and passion here at Beier Law, James officially joined our legal team as an associate attorney in the Fall of 2014.
Now officially a lawyer after years of hard work and accomplishments, James doesn't view this milestone as mission accomplished. When asked, James said his goal wasn't about signing "Attorney" before his name or adding a plaque to one of our doors. It's about what he believes in personally: helping all people be equal in the eyes of the law.
We congratulate and welcome James and look forward to his future accomplishments and contributions as part of our team.