We Are Matching Charitable Contributions To Mt. Oliver Fire Victims: The Rector Family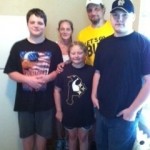 On June 8th, 2014, the neighborhood of Mt. Oliver was devastated by a destructive fire along Ormsby Ave. Immediately following the unforgiving flames, media outlets across the county flocked to the scene to report the destruction: 11 homes destroyed, 4 damaged & 1 uninsured.
That one uninsured home belonged to the Rector Family.
Like many others, the Rector Family – Eric, Kayla, and their three kids, Josh, Garrett, and Sara lost everything from the fire. But with no access to home insurance, the Rector family is more in need of assistance to help them start over.
As a real estate attorney, I was especially impacted by this family's story and wanted to do everything I could to make a difference in their recovery process. With the help of our partners RE360 & Rise Up Pittsburgh, Beier Law is making it a personal mission to assist the Rector family through a fundraising initiative that will ultimately help them rebuild and move past this tragedy. The Rectors are still in need of basic necessities such as clothing and a place to call home. We urge you to empathize with the Rector Family who has endured this sudden loss of their home and possessions. We want to make it our goal to get this family back on their feet as quick as possible. Every cent counts.
Please visit their fundraising page if you'd like to make a difference. To show our support, all donations made between July 21, 2014 and July 25, 2014 will be matched by the Beier Family for up to $1,000. Any donation will go along way toward getting them back on their feet as well as giving them hope that their lives may soon return to normal:
Donations Go Here: The Rector Family Fundraising Page