The 5 Safest Motorcycle Helmets Of 2015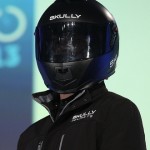 There's nothing quite as exhilarating as a motorcycle ride; the wind, the power underneath you, and the roar of the engine set the stage for an experience unlike any other. However, without the proper equipment, one small mistake can lead to tragedy. Boots, jackets, and gloves are all crucial to your safety, but one piece of gear is absolutely essential: your helmet.
There are plenty of helmets out there to choose from, but not all of them are created equal. The best motorcycle helmets of 2015 are made of quality durable materials and provide maximum coverage without limiting your field of vision.
Skully AR-1 Helmet with Heads-Up Display
Let's begin with a helmet that's still in the production stage but looks very promising. This helmet comes loaded with useful tech features, such as voice commands and a 180-degree rearview video display. The AR-1 is an infotainment system/helmet hybrid, but it's still incredibly safe.
Rather than coming up with a design on its own, the Skully team used a DOT-approved design from another manufacturer. It's a full face mask with a rear spoiler that breaks off on impact so it can still properly protect the rider's head. The shield will change from tinted to untinted at the push of a button, and the video display is designed such that your eyes won't have to adjust between glancing at it and back at the road.
HJC CL-17
The CL-17 is both DOT and Snell certified with an advanced polycarbonate composite shell. It's a full face, lightweight helmet with moisture-wicking parts and anti-bacterial fabric so cyclists don't have to worry about odor if they tend to sweat while riding. Riders everywhere agree that this model is a marked improvement from the CL-16, which was still a successful product.  Even though it meets incredibly strict safety standards and also comes in a variety of colors with many available graphics, the CL-17 is moderately priced at around $125, making it an excellent investment for any rider.
Shoei RF-1200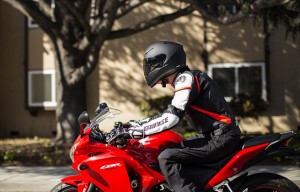 Shoei is one of the most well known and lauded motorcycle helmet brands on the market, and their products almost always dominate safety ratings. The full face mask protects your entire head, from chin to crown, and keeps debris out of your eyes. Basically what Shoei has done with this DOT and Snell approved model is improve upon the products that came before, particularly when it comes to size. The RF-1200, with a price that hovers around $500, is markedly lighter than its predecessors, making it a much more compact design than the 1100.
Arai Vector-2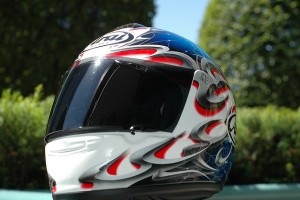 Arai's more high end helmet offerings are packed with extra features, but their more basic Vector-2 model is still an exceptional piece of gear, costing in the neighborhood of $500. The full faced shell meets DOT and Snell safety standards, and offers riders upgraded peripheral vision when compared to other models. Five extra millimeters on each side provide more visibility than you may expect.
Adjustable cheek pads and a great ventilation system round out the Vector-2, a great helmet for those curious about owning premium gear.
Shoei Neotec
The Neotec is a modular helmet, meaning it the visor, face, and shade visors can be flipped up depending on your preference. Shoei is always great at providing its customers with quality, safe products, and this model is no exception. A double EPS liner, which fits all the way around the head, inside the helmet makes it especially great at absorbing impact. The liner also helps ventilate the helmet to ensure you don't get overheated. This model is pricier than the RF-1200 at nearly $600, but the Shoei brand is well worth the investment.
Riding can make you feel more alive than you ever have. But all of that can come to a screeching halt in an instant if you're not properly protected. Carefully choose a helmet that fits well, doesn't limit your field of vision, and that has been approved by the Department of Transportation.